2015: Most Memorable Moments
Sepp Blatter is showered with cash
20 July: the Fifa president looks uncomfortable as comedian Simon Brodkin throws dollar bills at him during a press conference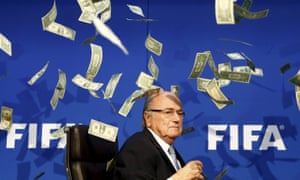 Andrew Jennings, corruption investigator I haven't been welcome at a Fifa press conference since 2003, but I have been watching Fifa for about 15 years. [At a press conference in 2002, Jennings asked Blatter if he'd ever taken a bribe. Since then he has been at the heart of the investigations into the organisation, and his reporting helped prompt the FBI to investigate.]
Not being at the conferences since hasn't really bothered me. You travel to Zurich, you get one question, Blatter ignores it and moves on to someone else [although he has repeatedly denied any wrong doing]. I know nothing about sport; I am a crime reporter, but I enjoyed the picture, and I've enjoyed watching Blatter's downfall.
It hasn't been a surprise – I have been talking to the FBI since 2009 – it was a question of how long they would take. But it's an organised crime squad from the FBI, it is very large, and they are taking their time.
The Swiss are taking their time, too. They are working through nine terabytes of data that they found at the Fifa headquarters, so they have plenty of information.
It's inconvenient for daily journalists who want a quick turnaround, but the investigators will complete their work. These individual visuals don't make much difference. Fifa is dead. Some say it will affect the game, but I don't think so. Fifa is just the superstructure. Kids aren't going to stop playing football.
Still, this is a good picture, an important picture, because it says it all. It's very near to the truth and it could become Blatter's defining image. It wasn't even real money. Blatter had false money thrown at him and he looked most discommoded. He ended the press conference, opened the door and walked out. It's as fair a picture as you could have. There's not much more to it, he's just a shit.
Rihanna arrives at the Met Ball
4 May: the singer steals the show with her memorable red-carpet creation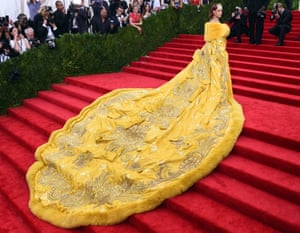 Mel Ottenberg, stylist The Guo Pei coat was incredibly heavy with all the amazing beadwork, and it was incredibly long, endless. The whole thing weighed over 55lb, which makes going up stairs almost impossible on your own, so I was on the red carpet to help. Anyone would need help getting up the stairs with that coat on, even a statuesque red-carpet pro like Rihanna.
Getting out of the car and on to the carpet was quite a mission, but also fun, we were laughing about it on the way to the ball. The scene when we arrived was electric. It's always fun to see people's reactions. The frenzy of the photographers is genius at the Met Ball as they all scramble to get the shot. It's a mega glamorous moment. But this was something extra!
In general I hate the idea of being on the red carpet and fluffing someone's look. But you just have to fix the look sometimes, and then jump out of the way to avoid being in the photos. It's a little ridiculous, and you have to have a sense of humour about it.
The Met Ball is a big moment for the woman you're styling. You want her to feel special and not have anything to worry about. Underneath the coat was a custom-made pink satin Agent Provocateur bustier. After the red carpet, we switched into another look for the rest of the evening. You could not go into an event wearing the coat, there wouldn't have been room. For that night in the coat, it was all about the staircase and red carpet.
I believe Rihanna was the only celebrity wearing a Chinese designer. It really put Guo Pei on the world stage. I loved all the social media afterwards: the memes were amazing. There were so many good omelette ones; one with a huge family having a party on the train. It was hysterical.
The Met Ball is a celebration of fashion and style so it's a great opportunity to go all out. It's one of my favourite moments of the year.
Rihanna in the Guo Pei coat was the cover of the New York Times the next day, and as a New Yorker, there's nothing better than that!
The Majid family arrives in Europe
15 August: an image of a father weeping as his family arrive by boat in Turkey encapsulates the human suffering behind the refugee crisis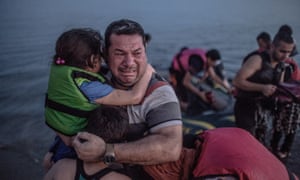 Neda Al-Amirij, wife and mother We come from Baghdad. I am an English teacher and my husband Laith is a mechanic. We and our four kids had a good life, until thugs made it unbearable. We are Sunni Muslims: the ruling party in Iraq are Shias. Shias came to our house and threatened us. They were like a mafia. They said: "Leave or we will kill you." The kids couldn't play in the streets. I was worried they'd be kidnapped, so we sold everything and left. Our goal was Germany. The Queen, Angela Merkel, is like a mother to us.
We arrived in Turkey. In Bodrum we had to take a boat to Greece. It was a tiny plastic boat for the 15-mile trip, full of people. We were not allowed to take our luggage – the smugglers threw it into the water.
During the night, the boat started to lose air. We were crazy with fear. We thought this is it, we will die. But somehow we made it to the shore of Kos. There was a young man from Germany, Daniel Etter, who helped us to reach land. We were crying with relief. Daniel made the photo of Laith in which he holds Nour, 7, and Taha, 9. It was published in the New York Times. We told him we were Syrians, because we were warned in Turkey that they might send us back if we said we were from Iraq.
From Athens we were smuggled to Berlin in the back of a truck, which cost €1,800. The trip took several days. In Berlin we got a room in the former army barracks of Spandau. We were very happy that we'd made it. But life as refugees is not easy. In September the German government sent us to a little village near Göttingen. We had to sleep on the floor of the canteen, in between thousands of other refugees. Ahmed contracted pneumonia.
So I decided to break the rules and took my family by train back to Berlin. Luckily we got our old room in Spandau back. Here we live today. We are learning German; our youngest, Nour, is quite fluent. On 11 January we will get official government help. But only after that will they decide if we get permanent asylum. We want to start a new life in Germany.
A weasel hitches a ride on a woodpecker
2 March: how a woodland walk ended up with a remarkable wildlife shot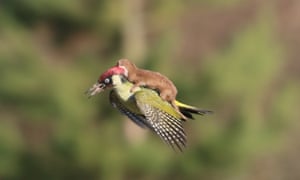 Martin Le-May, amateur photographer My wife had seen a couple of woodpeckers in Hornchurch Country Park, and she fancied getting a better view of one. I knew a place where they hang out. We were walking along when I heard an odd noise in the grass – a woodpecker being attacked by something. I realised that if the bird took off it was going to fly straight towards me.
I picked up my camera, a Canon 70D, and started shooting. I took about eight pictures in total, and the whole thing lasted no longer than 10 seconds. They landed about 20 yards in front of us, and I remember thinking I wasn't sure if I wanted to watch a woodpecker be ripped to death in front of me. But I think our presence was enough to put the weasel off. It ran away hungry and the bird flew off.
To be honest at first I was more excited about a picture I'd taken earlier, which I had thought was a fieldfare – a type of thrush. But when I got the pictures up on my computer and saw the weasel and woodpecker shot I called my wife who was making tea in the kitchen and said: "You should look at this. It's pretty spectacular."
I shared it with a small group of photographer friends and one of them asked to put it on Twitter. Within an hour it had been shared 5,000 times. By the next morning it had been seen by more than 1m people on BuzzFeed and there were reporters at my door.
I don't for one moment think it's the best picture ever taken, but in terms of subject and content I'm never going to top it. Another photographer told me that it wasn't just one-in-a-lifetime, but one in seven or eight. I'm keeping a scrapbook, though, so that when my children produce some grandchildren I can sit down with them one day and say: "Granddad was a little bit famous, once."
David Cameron is flirted with on morning TV
17 March: was it flirting or friendliness? The interview which made headlines for unexpected reasons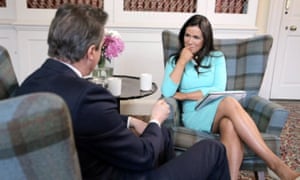 Susanna Reid, presenter My interview with David Cameron for Good Morning Britain seven weeks before the election made headlines, but not for the reasons you'd expect. I'm used to the description of my interview style as flirtatious, but that's not how I'd describe it. It's relaxed and friendly, and when you are relaxed and friendly sometimes people reveal more about themselves. I think that was the case here. The viewers saw more of David Cameron the person, as opposed to the politician.
We wanted to do a series of interviews with all the party leaders to reveal the people behind the political facades. Ben Shephard interviewed Ed Miliband on the school run; Kate Garraway met Nigel Farage on the beach; I went to Nicola Sturgeon's house and rifled through her shoe collection.
I wanted to ask what it's like to juggle the biggest job in the country with having children. Do the kids get teased at school because their dad is PM? Does he get to go to parents' evening? Not as often as he'd like. Also you would assume the PM would get his child into their first-choice state school. He didn't.
I expect Number 10 were surprised that it was reported as an analysis of the interviewer rather than the subject. One newspaper hired a body language expert to analyse how I was sitting, and how I was chewing my pen. A close aide said Cameron told him his radar must have been down as he didn't pick up on it during the interview.
Was I flirting? Neither of the two people involved thought so. I chew my pen in a lot of the interviews I do, with men and women. Does the office need to get more biros in to serve my chewing habit? Probably.
A television crew in Virginia is attacked live on air
26 August: journalist Alison Parker and cameraman Adam Ward are murdered during a routine broadcast
Vicki Gardner, victim It was a beautiful morning and we were overlooking Smith Mountain Lake. I work for the chamber of commerce and Alison [Parker] was interviewing me. I saw somebody approach who I thought might be a maintenance worker. But there is never anyone around at 7am. He turned on a light and began shooting.
He shot Alison first, then Adam [Ward], the cameraman. When Adam fell, I fell with him. It was obvious Adam was gone. Then he went after Alison. She had run to a corner, but there was no other place for her to go. He returned and shot me in the back, but then ran out of bullets. I knew I couldn't let on I was alive and didn't dare do anything. It was very quiet. I was afraid to look up as I has no idea where he was.
The bullet hit my spine, but didn't go through it. It took out a kidney and hit my colon. If it had hit one of my major arteries I would have bled to death. I was in intensive care for several weeks and I have been recovering at home since.
I looked at the worst mankind can offer. But the worst is nothing, and the best is everywhere. The community rallied around me, they held a lovely remembrance service at the site in September. My hospital room was filled with bags and bags of cards and letters and gifts from all over the world. They were wonderful messages of encouragement.
I write a Christmas newsletter every year which is always quite funny, but this year I was unsure how to paint what happened in a humorous way. But I managed it. I am so looking forward to getting back to work in January. I have taken the addresses of the people who sent gifts and cards, and I want to send a thank you note to all of them. I hope by telling the story that something good comes of this, that people come closer, as our community has, rather than closing the door, and being angry.
Labour's election pledges are carved in stone
2 May: Ed Miliband unveils the 'Ed stone'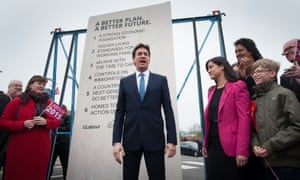 Solomon Curtis, former Labour candidate There was a crowd of 40 supporters and Labour candidates from East Sussex, gathered in the car park and all we could see was this hideous metal structure, hanging in the air.
While we were waiting for Ed Miliband to arrive, the local Green Party candidate, Jake Bowers, rolled up in a horse-drawn carriage and positioned himself on a patch of grass, with his PA system. Ed got off the coach, unveiled the stone and talked about his pledges being "carved in stone". You could see he wasn't all that comfortable.
Someone made a comment, said they're going to say it's a headstone, or Ed Stone. We were quickly told not to repeat that, in the hope it wasn't picked up by the media which, of course, it was. Ed was quite jokey, he smiled and had a laugh about putting it in No 10 when we got into office. It was surreal, like something from Alice in Wonderland, with this 8ft-tall Ed Stone and Jake Bowers's massive horse.
I went to a very standard rally in the centre of Hastings afterwards, so I forgot about the Ed Stone until the next morning, when I woke to hundreds of photos sent to me by friends, where Ed had been photoshopped as Moses in front of the stone and, of course, there I was stood next to him.
It's much easier to talk about the Labour loss now it's over, but I was so disappointed at the time. We should have foreseen what would happen in Scotland. It was a horrific loss.
The first images of Pluto are sent back to Earth
14 July: the New Horizons space probe passes Pluto after a 10-year journey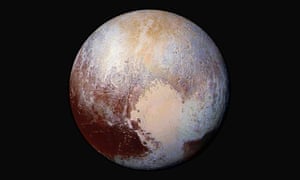 Alan Stern, project leader It was not until the morning after the New Horizons space probe swept over Pluto and on into deep space that we realised what a wonderful world we had uncovered. It was then that we got the first images back from the probe on our screens – and they were spectacular.
We could see Pluto had a blue atmosphere, a complex system of moons, and a smooth ice plain the size of Texas. The control room went wild. There were hugs and smiles and people spiking their arms in the air. I'm sure I used a lot of four-letter words and none of them were Nasa. We had not just made this historic journey across the solar system, but we had found that Pluto was, scientifically, beyond our wildest dreams.
We expected to find a complicated, icy outer world, of course. But what our brief encounter revealed was a world that was something between Earth and Mars – but at the outer edge of the solar system, 3bn miles away. We could see signs of active geology. The ice plain, Sputnik Plenum, has either been created in the very recent past or is continually being renewed. We can also see very old terrains and some intermediately aged terrains. So it is clear it has been geologically alive throughout its entire 4.5bn-year history. It should have cooled off by now, but it hasn't. It is a puzzle of gargantuan proportions for planetary geophysics.
And that is why I believe we have to go back. We need to send an orbiter or a lander to Pluto next time. It took 26 years to plan, build, launch and track New Horizons, but I still want to be part of the team that goes back to Pluto. It is such a wonderful little world – the solar system's last important outpost.
Fans are massacred at the Bataclan
13 November: a night of terror unfolds across Paris as 129 people are shot and hundreds more are injured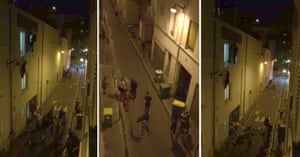 Katie Healy, concert goer My boyfriend David had surprised me with a trip to Paris for my birthday, and we were looking forward to seeing Eagles of Death Metal while we were there. The crowd at the gig seemed so joyful, and from all walks of life.
As the band were playing, something splashed on my shoulder. I thought someone had spilled their drink on me, and I turned to David to say something, but then I saw the flashing of a machine gun and realised that the liquid was blood. The crowd heaved and we fell. I hit the back of my head on the floor. The gunmen were shouting, but I didn't understand what they were saying, especially not over the screams.
David scrambled to lie over me. We were telling each other to stay calm, and that we loved each other. Then the shooting stopped and everyone got up and ran. But we hadn't got far when the shooting restarted and we fell to the ground again. It was horrendous. There was a woman to my right who had been badly shot, and a man to my left who was gurgling, choking on his own blood.
It became eerily quiet. The gunmen were walking around, killing people one by one – we could feel the floorboards vibrate with every gunshot. I said to David, who was lying on top of me: "This is it. I love you, goodbye."
Then, suddenly, he said: "Get up and run." I was too afraid to move, but David had seen a door open in his eyeline and a small group of people escape, so he grabbed me. We ran over the dead bodies and made it out the door.
Outside, we kept running. David couldn't move very fast, as he had been shot in the foot, but I dragged him as far as I could. A lady heard my screams and let us into her apartment complex. She tied her scarf around David's foot to try and stop the bleeding – she probably saved his life.
Luckily a doctor who lived in the same block came out to help and selflessly decided to drive us to the hospital. The accident and emergency department felt like a war zone. It was full of people who had been shot, and ambulances seemed to be arriving all night. I stayed with David in the hospital until we returned to Ireland on Monday night. He was immediately transferred to another hospital for further surgery. He's had four operations in total.
It's been a bit of a blur since we've been back. There's a great amount of shock. It doesn't feel real, and we both feel guilty that we escaped with our lives while the people around us, who we were laughing and dancing with, died. And for what? We feel extremely lucky.
The Greek finance minister resigns following the country's No vote
6 July: despite the huge majority of Greek citizens voting No in the country's referendum, the prime minister ignores their wishes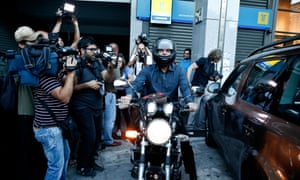 Yanis Varoufakis, former finance minister On the morning of the referendum, I was thinking about my letter of resignation, as I had said I would resign if it were a Yes vote. I wasn't feeling confident: the banks were shut, the No campaign was losing support, and I thought it would be very close.
I spent the morning working at home, then left the house with my father and wife, talking to strangers to gauge the mood. It was clear that it would soon be a landslide No vote. I felt elated, and slightly ashamed that I had not trusted the Greek people.
That 62% of our citizens, despite being exceptionally worried about the future, and warned by the powers that be about the risks of voting No, went against that on the basic principle of democracy, divests hope that we live in a just society.
I assumed Syriza would honour that vote. But the longer Prime Minister Alexis Tsipras delayed announcing victory, the more concerned I became about his intentions.
Those who were pushing Tsipras towards accepting the bailout terms wanted to ease me out, as I would be the one to sign any agreement. When I walked into Tsipras's office, he was distraught. I had no intention of hanging in there and causing problems. I tried to dissuade him in a frank exchange of quite a few hours, and realised I could not.
I came home at around 4am. It took me almost three hours to compose a short resignation letter: it was hardest thing I've ever written because I didn't want to undermine the prime minister, but I needed to convey to our voters that we had let them down.
A friend of mine's 18-year-old son, when he found out I was resigning at 7am, turned around and said very laconically, "Well this is it: Syriza is over." I was not ready to accept that Syriza was over that night. I thought Alexis Tsipras might agree to disagree, but he refused to co-operate.
My relationship with Tsipras doesn't exist now. We've never had a cross word between us, but there is nothing left to discuss. I don't think he could bear to look me in the eye.
A dress causes colour consternation
26 February: was it black and blue or white and gold? A disagreement between a mother and daughter over the colour of a dress for a wedding generates 20m tweets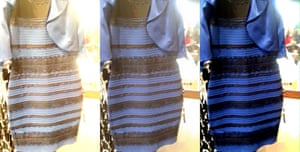 By Cecilia Bleasdale, mother I was in Manchester shopping with my partner Paul for an outfit for my daughter Grace's wedding. We went to Roman Originals and I took some photographs to show Grace, who lives on Colonsay in Scotland. I sent her three pictures and said: "How about the third one?" She replied: "The white and gold one?" I said: "No, it's blue and black." She sent the photograph back and said: "This is what you sent me." I said: "Yes, it's blue and black." She said: "If you think that you need your eyes tested."
Anyway I bought the dress, which was £50, and nobody at the wedding said anything about it, but Caitlin McNeill, from the band, posted my picture of it on Tumblr. A few days later the photograph had gone viral.
We were asked to appear on the Ellen [DeGeneres] show in LA. Grace and Keir interrupted their honeymoon for it. I'd never flown long-haul before – we tend to holiday in Britain – so we went to Universal Studios and had a tour of the Hollywood Hills. It was all quite surreal. Researchers got in touch to tell me that it opened a debate about how we see colour. I've had to go to a solicitor to protect my copyright, and I've spent more on fees than I've earned from the picture. There are pluses and minuses.
A plane crashes during the Shoreham airshow
22 August: a much-loved summer airshow ends in disaster as a plane crashes on to a busy road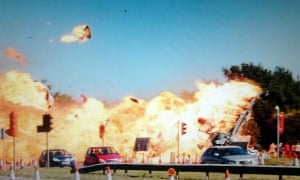 Dom Lawson, a motorist driving past the event It's one of those things where you can look back and understand what was going on, but at the time it's so surreal, it's not something you ever expect to see. It was like watching Die Hard, where a plane explodes. If you were at an airport you'd be amazed to see that scene, let alone on the A27, a road I take five times a week.
It was a hot day, the sun blazing. I was driving with the windows down, music blaring. I was staying at my girlfriend's house in Croydon that weekend, but I'd forgotten something so was making the 25-minute journey back to my place in Worthing. Because of the music, I didn't hear the plane – the first time I saw it was through my windscreen.
It was just so bizarre – the sound it made, the huge ball of fire when it hit the ground. There was an eerie silence and it was like everyone was thinking: "What the fuck was that? What have we just seen?" All the debris flew away from us – the momentum of the plane taking it.
Things started to click. I knew there was an air show that day. But when we all got out of our cars and saw half the plane lying on the tarmac, that's when it sank in that people had been killed. The rest of it had gone, in the explosion.
I still can't remember when the traffic lights changed. I had either been moving at less than 5mph or I may have been stationary, all I know is I had stopped at the red signal when the plane went down. Now it seems there's a very clear divide between the people who stopped at the traffic lights and the people who were hit.
The smoke cleared. There were two or three vehicles on fire, but no one moving in them. The emergency services were already at the air show so were there quickly, within five minutes. They put up tape and started organising the cars, and everyone very quietly did as they were told. There was one guy I was speaking to in a nearby vehicle who had been driving his young family: a newborn and a toddler, along with his wife and mother. He was in shock.
After about an hour, we were free to drive home. I remember crawling along the seafront in very heavy traffic thinking: "I can't believe I'm still alive." A matter of 10 seconds and it could have been very different.
A feminist pressure group storms the premiere of Suffragette
7 October: protestors lie on the red carpet and let off fireworks to protest about women's rights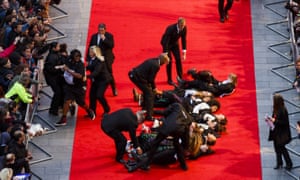 Abi Morgan, scriptwriter Premieres are fun, but the fluff and red carpet is so far removed from the rest of the process that as we pulled up my initial reaction was: "Wow, they have really gone to town with the fireworks." Amazing smoke bombs in the suffragette colours clouded the air and my partner, children and I marvelled at it from inside the car.
It quickly filtered down to us that it was a protest. There was so much noise and so many people that you couldn't hear much. I think it was a journalist who told me that it was Sisters Uncut: a direct-action group defending cuts to domestic violence services. But perhaps because we have all spent so long in the minds of revolutionaries it only added to the spirit and excitement of the evening. It seemed to make sense of something which can too often be turned into a vanity parade.
The film draws on the idea that 100 years on, so many of the issues that affected the women of 1912 still affect women globally today – equality of pay, sexual violence at work and at home, educational and parental rights. It was very apt that they should choose to use this film to draw attention to such an important cause. I was delighted.
I haven't personally had contact with Sisters Uncut, but peaceful protest is a mark of any good democracy. It was great for my daughter and son to see that. One of the great joys of Suffragette is the support it has garnered from so many people. People have told us we caught the zeitgeist with Suffragette, but all you are ever trying to do is reflect back on the world. It's great if that comes part of the vehicle for change.
Alexander McQueen's retrospective starts at the V&A
14 March: Savage Beauty showcases the extraordinary talent of one of Britain's most influential designers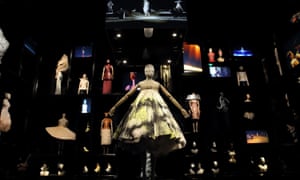 Aimée Mullins, athlete, actor and model It was incredibly moving to see the work of someone you adored memorialised as an exhibition at the V&A. To create that body of work by the age of 40… you can't help but have your whole being swell with a sense of awe, wonder and, for those of us who knew Lee [McQueen], pride. It felt as if the clothes were talismans and if you were to touch one of the sleeves, you were whisked off to another time, another place.
The essential London-ness of Lee was something I really felt with the show being presented in his home town; and a show that powerful also reminds us that we need to do what we can to protect those sensitive souls among us.
The prosthetic legs Lee designed for me to wear to open his S/S 99 show were on display in the Cabinet of Curiosities. They fit perfectly, but are made from solid ash and are very heavy. It's not like slipping on a pair of high heels. I got them just hours before I had to walk out in front of this packed house. It was terrifying.
He wanted them to be my "party legs", but I thought they should be viewed by the public. The reaction has been palpable. Anyone who sees them up close says they are one of the most exquisite things they've ever seen. The bold poetry of taking a wooden leg – historically the domain of pirates, war veterans and trauma survivors – and making it an objet d'art worthy of being a centrepiece in a museum is the essence of McQueen.